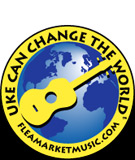 Original Post By: Guest_Steve Rosenthal
Date: 7/29/1998
Over the past couple of weeks I've been seriously shopping for a baritone ukulele. Here in the Minneapolis-St. Paul area, there are many music stores but almost none that carry ukes. Willie's American Guitars, a really great local guitar shop, had two gorgeous Maui ukes, and a new National for sale, but none were baritones. The owner of the shop is a uke collector, and appears more likely to keep the better ones that come in, than to sell them. They did have a couple of tenor guitars for $125-150 that kind of caught my eye, but I was determined to find a new or used baritone uke that would be more gentle on my fingers and hands than my steel string guitar. (I'd like to be fifty again.) Locally, all I could find were a couple of seriously over priced junkers at a "vintage" instrument shop and a new extremely low quality mass produced instrument from China at a major regional music chain. So, I began a search over the internet. I e-mail queried Bounty Music in Hawaii (wonderful people, very helpful), Mandolin Brothers, Elderly Instruments, Gruhn Guitars, Bernuzzio Vintage Instruments, and many more stores than I can remember. I asked for advice, descriptions of used instruments and price quotes. Most everyone I contacted responded quickly, usually within a day. I didn't get much advice from mainland stores, I suppose, because as one lovely woman told me over the phone, "We sell ukes as a service, not as a major part of our business. We know about guitars, basses, mandolins, banjos, you know, instruments that people really play seriously." I was told by a very astute man at a New York vintage stringed instrument store that buying any used instrument by mail could be frustrating. "You need to lay hands on it and feel it, to smell and hear it, to get its essence." He said that his store, and most others that carry vintage instruments, have a call list of collectors to contact when a quality instrument comes into the shop. He said if my intent was to buy an instrument to play music on and not just to collect, and, of course, if I could afford one, I should "protect my investment" and buy either a quality new Hawaiian koa instrument with a full warranty or "a $50 dollar mint condition vintage Martin from a grieving widow at an estate sale." He added that the latter happens in folklore, but rarely in fact. His advice made sense, so I took it, and began my search, via the net from store to store. I am, frankly, amazed at the difference in price quotes that I got for the same instrument. Not only do the stores display different "list prices" but the "sale" prices which they are selling the instrument for vary by as much as 10-15%. Now this isn't huge money, but it's enough to make an appreciable difference to me. For example, one baritone ukulele I would love to have, (maybe if I win the lottery) is the Kamaka HF4. I was quoted list prices from $665 dollars to $770 and sale prices from $590.40 to $665,"but with this e-mail we'll throw in free shipping." I have yet to make a purchase, and have, frankly, been scared off by the high prices. I have, however, learned a valuable lesson, thanks to the kind people who responded to my inquiries. It's simply this: Buy a quality instrument from a reputable dealer with a history of doing business with people you know, but don't pay more than the lowest price you see advertised anywhere. Virtually every store I contacted, who carried the Kamaka baritone uke, would match the lowest published price. There were exceptions, but for the most part, every store will match a confirmed price off a published price list. One store in Hawaii was quite unfriendly when I quoted the lowest price and insisted that I would be getting a "second" at that price. It's been an education. Geez, I hope I can find that grieving widow!
Posted By: Guest_Eric
Date: 8/7/1998
There is a place on the Web called Lark in the Morning that has some European ukes for sale. They carry a no name (that I'm aware of) mohogany baritone uke for $165.00. That is the least expensive, new baritone that I have seen that might be of some quality.
E-mail: info@fleamarketmusic.com


Home

Online Store

Events Calendar
Mailing List

Ukulele Links

Marketplace

Bulletin Board
Player Directory

Collector's Uke Yak

Ukulele Tuner


© 1997-2022 Flea Market Music. All rights reserved.
Web Design by Web Solutions, Inc.