STAY TUNED—2022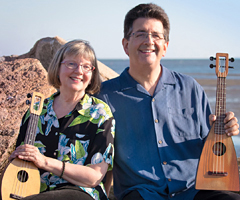 Hi all! My hard-cover, 236 page memoir, UKEtopia—Adventures in the Ukulele World, is now available here in the FMM on-line store and at brick and mortar/online bookstores everywhere! The book includes almost 200 images, including many photographs taken by Liz. I've also curated a Spotify playlist that follows all the song/music references in the book. You can find it here: https://open.spotify.com/playlist/7ocCb5fPfhwtzmievmR6VV. Enjoy!
Keep on strummin'!
�Jumpin�� Jim Beloff

Flea Market Music ... For All Things Ukulele
Finding a Martin tenor ukulele at a flea market in 1992 was life changing and inspired us to share the joys of the uke with others. In our online store you'll find all of our Jumpin' Jim's songbooks in Books & Songbooks as well as Jim Beloff Recordings and DVDs. To order all Magic Fluke Co. instruments including the Fluke, Flea and Firefly ukuleles as well as other ukulele-related accessories go to magicfluke.com.
Taking care to foster a community of uke enthusiasts, we have developed a variety of interactive areas for site visitors to enjoy. Add yourself to the Player Directory, find other players in your area and create player groups. Join a conversation in the Bulletin Board and post ukulele-related messages. Sell your ukulele and/or buy one in the Marketplace. Find upcoming workshops and appearances by Jim and Liz Beloff as well as other uke happenings in the Events Calendar. We'd love to hear from you, so please feel free to write us at jim@fleamarketmusic.com, and don't forget to leave your name and address for our Mailing List. Thanks for stopping by!