---
About Jim & Liz Beloff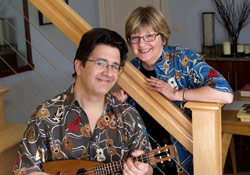 Finding a ukulele at the Pasadena Rose Bowl Flea Market in 1992 inspired Liz and Jim Beloff to start Flea Market Music, Inc., publisher of the popular Jumpin' Jim's series of ukulele songbooks. This series is sold worldwide and includes The Daily Ukulele: 365 Songs For Better Living and The Daily Ukulele: Leap Year Edition, two of the biggest and best-selling ukulele songbooks ever published.
Jim Beloff is the author of The Ukulele—A Visual History (Backbeat Books), producer of Legends of Ukulele, a CD compilation for Rhino Records and has made three how-to-play DVDs for Homespun. Jim is also an active songwriter. His 2014 two-CD set, Dreams I Left In Pockets, features 33 songs he wrote or co-wrote with uke legends Herb "Ohta-san" Ohta and Lyle Ritz.
In 1999, Jim composed and premiered "Uke Can't Be Serious," a concerto for solo ukulele and symphony orchestra. Since then the piece has been performed many times, most recently with the Choate School orchestra in Germany and Austria and also with the Michigan Philharmonic. In 2017, Jim premiered a new work entitled "The Dovetale" commissioned and performed by the Wallingford (CT) Symphony Orchestra. In 2018 he released a recording of both pieces entitled "Two Ukulele Concertos."
Liz Maihock Beloff, with a background in film and television graphics, designs the covers and art-directs all of FMM's songbooks, CDs and DVDs. She is also a talented singer who, before teaming up with Jim, sang with a cappella groups in college and New York City.
As performers, Liz and Jim have become known for their breezy, close harmonies on standards and Jim's original songs. They perform together regularly throughout the USA, playing their family-made Fluke, Flea and Firefly ukuleles. They have also toured Japan, Australia and Canada and believe in their company's motto, "Uke Can Change the World." www.fleamarketmusic.com and facebook.com/jimbeloffmusic.