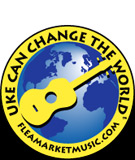 ---
Tired of being the only uke enthusiast you know? Looking to start your own ukulele group? Flea Market Music's Player Directory allows you to add yourself to the growing list of ukers in the search of fellow strummers. You can search for players by screen name, U.S. Players by state, International Players by country, start a local Player Group or find a group near you and join in the fun.


United States Player Directory - 6625 Players


International Player Directories - 1403 Players




Login to modify your Player Directory Listing or create a Player Group.

Create a new account and be listed in our Player Directory.

Forgot your password? We'll send you the password via email.
E-mail: info@fleamarketmusic.com


Home

Online Store &nbsp

&nbsp Events Calendar&nbsp

&nbspFlashbacks
Mailing List &nbsp

&nbspUkulele Links &nbsp

&nbsp Marketplace &nbsp

&nbsp Bulletin Board
Player Directory &nbsp

&nbspFAQ File &nbsp

Collector's Uke Yak

Ukulele Tuner


© 1997-2017 Flea Market Music. All rights reserved.
Web Design by Web Solutions, Inc.