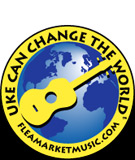 Original Post By: mLKauai
Date: 12/1/2016 9:58:10 PM (Updated: 12/1/2016 10:04:19 PM)
I think Muttzuki posed this question re a certain brand but the thread went on to more in general discussion, so I'm borrowing the other half of his question and putting in this new thread my opinion (in-humble as it may be, or not be).
J.Boy Shine stated his view of how big American brand guitar/uke companies would get more action in the resell market; I guess he meant like vintage Martins and Gibsons etc and he included the "4 K's" welll known Hawaiian brands.
He also gave a comparison to Japanese guitars even great but losing resale value vs. American.
He stated that most so called great private custom Uke builders's pieces have not increased in value in the last 10 years, and have mostly gone down some, and i agree, and want to add my "how come" to the subject. Theres a lot more to it than my viewpoint but I think mine is a good one and essential to the story; or not?

Ahh J Boy Shine, good post. I suggest readers go to that thread to see what all he said too.
Hmm I don't play much guitar but yeah I love Takamine gear; I played a friends big Takamine for nylon strings, with p/up, that was a delight! I asked what it costs and he said used about $500. about half what it sold for new, and it did not lose a step in being used. I almost offered to buy it from him haha.
I see some similarities between guitar and uke markets as you summed up. I know more about ukes just because they're my thing, but I am sort of a snob coming from guitar... almost out of self defense!
I mean specifically that ukes are not known for their all around versatility as far as tone is concerned. The vast majority of uke owners are plunkers and strummers, and many darn good ones, not to mention ukes open up whole universe of fun for those that either aren't inclined to "serious" musicianship. I.e. even guitar players plunk I know, but at least they aren't limited by the scale of an ukulele; soprano to bari, the scale and size of the sound box on ukes just don't have the volume, tone/timber or sustain of other instruments.
Very few uke virtuoso's cross over into popular music, jazz or classical music as celebrities for that reason I believe.
All that said, it takes a real uke nut (like me) to plop down more than a thousand (even thousands) for a damn great uke! and I don't mean a vintage 5k Martin soprano; I'm a tenor guy, and all the Martin tenors I've tried failed the tone test.

[Let me digress: prior to the early 2000;'s or so, the only great virtuoso uke players were using soprano or concert ukes, (like Martin sopranos) i.e. the Tiger Rag guy from the 20's who was that Smeck etc?
Then we had more recently, in the 50;s and 60's Ohta San, and Eddie Kamae, but still the smaller scale sopranos and concerts that for reasons of physics, had and still have optimal tonal values, but never any famous solo tenor uke players until within the last 15 years when either private or factory-build luthiers would carve out a custom tenor that their factory tenors couldn't hold a candle to. ( I passed on a half dozen vintage Martin tenors and some bari's that were dull, factory Kamaka and Koaloha tenors too; fine for strumming mind you, but not solo instruments.

Why do I do it? plunk down that kind of money? because in my case I look for ukes that go above and beyond the current limits of uke scale and tone physics, one that has good volume, tone and sustain somewhat comparable to a nicely balanced acoustic guitar!
I don't need that level of uke if I intend to just strum along with "mitch and the gang" if you know what I mean; as long as it holds intonation and harmonics, although I know some, not many, strummers that have scooped up some great (and pricey) custom ukes just for that purpose and more power to them and the luthiers by all means. They definitely edify the whole uke scene.
Boy do I go on, but thats why I'm here... fun.

I don't think a whole lot has changed in the 10 years that I "settled" on my custom William King tenors, but after compulsively investigating dozens of good to great ukes back then, I do know the difference between a decent uke (ie.factory or custom) and a great one; btw I don't consider any factory made uke great by the criteria above mentioned; and fairly their price points reflect that.

Vintage Martins and Gibsons have provenance, but the thats the value; other than the smaller models, like I said, the tenors and bari's are dull.
Hawaiian "K's" (Kamaka Koaloha etc) are holding, and their excellent (and $$$ expensive - even more than private custom) custom tenors for the pro's (Jake, Herb Jr, et al) and aspiring players will probably hold more value than the lesser known great luthiers just because of their having more exposure in the field.

I guess the only point i will make that may add to the thread (imho) is that ukes are a niche market that is limited to the extent that great luthiers will not really get beyond that boundary of compounding/limiting returns other than what someone is willing to pay them, or as a labor of love. I'm just grateful they do.
Posted By: J Boy Shyne
Date: 12/3/2016 8:19:39 AM (Updated: 12/3/2016 9:03:34 AM)
mLKauai wrote, "[J Boy] stated that most so called great private custom Uke builders's pieces have not increased in value in the last 10 years, and have mostly gone down some."

Nope, I didn't say that or at least I didnít mean to imply that. Rather, I suggested the poster run a search to see the selling price of the used ukes in question. An advanced ebay search for "sold" items is a good place to start. Also, checking stores who sometimes leave the sold price up on their websites is another place. FMM marketplace is one of the best places to see used prices, and to sell (and buy) high end ukes.

Okay, let's say that Luthier X started making the finest ukes in 1980 and folks on the uke boards and uke mags rave about these great ukes that originally sold for $1000. By 2010, X is out of business (or dead). However, folks are still raving about X ukes. Now, some rich kid who doesn't go on the boards or go to Uke Fests or hang with uke aficionados, simply wonít know of X ukes. If he plays one, heíll think itís a great axe and offer a few hundred for it. On the other hand, knowledgeable folks know that the uke is one of the finest in the world and theyíll gladly pay $1000 or $2000 or even $3000 for an X uke that originally sold for $1000 in 1994. However, I offer that in 20 to 30 years, when the X uke is once again offered for resell, few if any will know of the uke, and it will only go for a few hundred.

I need to add something, currently ukes are hot. More and more folks want ukes. Used Fleas and Flukes are hard to find. They always go for at least ĺ of their original selling price. I suspect so do the Mya Moes. Indeed, with the wait list, used ones might go for new prices. All that aside, all playable ukes are selling well. For example, I bought a new Mahalo for $19.99 in 2009. I never played it and listed it on Craigslist for $25.00 (new ones now gor for $35 or so). It was gone in a few hours. Although I didnít have many high end ukes (I was loaded with high end ghee-tars), all my ukes sold quite well. I got at least ĺ the current price for a new uke on all the ones I sold. Some I sold for the price I paid or even more. I bought a used National for $750 and sold it for $950. I also had a 20s The Gibson that originally went for $10. I bought it for $350 ten years ago and sold it for $550.

Everything Iíve written is based on my own experiences. Prior to 2015, while I bought 100s and 100s of instruments since the 1970s, I never sold any. In 2015 I HAD to sell. While the vintage guitar market is down, I suspect the uke market, for all ukes, is up (way up).

Posted By: brUKEman
Date: 1/23/2017 5:53:27 PM
I buy ukes for their sound and play-ability. If they hold their value that is a plus. Don't buy one as an investment.
Posted By: Muttzukii
Date: 1/24/2017 2:58:29 PM
Well, I've thought about this a lot since I first brought up the subject. I think now that there are a lot of people invested in the mystique of guitar whether they really play or not. There are few ukes that are iconic to the general public, at least to the degree that D-28, Strat, Telly & Les Paul are. I think there are people that don't play much [or at all] that are only too happy to have a Rock God [or Folkie] totem hanging on the wall. As with any free market, the more buyers, the more the prices are validated. I was just looking through eBay & a lot of very ordinary Harmony guitars that I paid under $50 & traded off later, now are offered in the high hundreds. I don't know if any of them actually sell for those kind of numbers, but the sellers perception is there.
E-mail: info@fleamarketmusic.com


Home

Online Store

Events Calendar
Mailing List

Ukulele Links

Marketplace

Bulletin Board
Player Directory

Collector's Uke Yak

Ukulele Tuner


© 1997-2018 Flea Market Music. All rights reserved.
Web Design by Web Solutions, Inc.