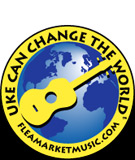 | | |
| --- | --- |
| | |
---
Below is a list of links to other sites relating to Uke Builders/Manufacturers. These sites have been added by other ukulele players and enthusiasts. To add a link, click here.




Cripple Creek Mandolins - Handmade ukuleles and mandolins
---

Portland Guitar - 15 year luthier of Innovative Ukuleles, Small Guitars, Acoustic Guitars
---

kenfranklinukulele.com - Ken Franklin hand made custom ukuleles and guitars
---

Ukulele Banjo - Handcrafted Banjoleles from Holland
---

Magic Fluke Company - Ukulele sales
---

Beau Hannam Ukuleles - Fine Handcrafted Ukuleles and guitars
---

Morande Instruments - Hand-Crafted Musical Instruments, Northfield Vermont - Guitars - Ukuleles - Mandolins
---

The Fun Ukulele Company - Premium hand crafted guitars and ukuleles built by a master jeweler.
---

Grimes ukuleles - custom built ukes - soprano to baritone sizes
---

Stringit & Strumit - Handmade Ukuleles - Handmade Ukuleles, Ukulele Accessories and Ukulele Parts
---

Ash Mandolins - Sean Ash -Professional Luthier, making Mandolins, Guitars & Ukes
---

Snowshoe Ukulele Company - Fine handcrafted ukuleles from the big island of New England
---

www.pinolguitars.com - Custom Luthier Made Solid Wood Ukuleles
---

Blackbird Composite Ukuleles - Blackbird makes concert and tenor size ukuleles. The concert model (Clara ) is made of Ekoa, and the tenor is made of carbon fiber.
---

Hoffmann Luherie ukuleles - Best quality, sound and price. See what our customers say
---

www.ukulele-uncle.com - Custom ukulele and guitar built to order
---

Butser Mountain Music - Ukuleles Lap Steels, Guitars and other Instruments from the foothills of Butser Mountain, Hampshire, UK
---

Todd Rose Guitars - Truly unique ukuleles handmade by Todd Rose in Ithaca, NY
---

Stansell Guitars & Ukuleles - Flamenco Inspired Ukuleles
---

Bill Tapia Ukuleles - Bill Tapia Custom Signature Brand Ukuleles
---

MAUIMUSICUKULELES.COM - MAUI MUSIC UKULELES & GUITARS
---

Delgado Guitars - Handmade instruments (including ukes) since 1928
---

Lichty Guitars & Ukuleles - Custom Handmade Ukuleles built by NC luthier Jay Lichty
---

Kohala Ukuleles - Kohala manufactures quality ukuleles that are fun and easy to play
---

John Morton Metal Stringed Instruments - resonator ukes from nickel silver and brass
---

Southcoast Ukes - Traditional craftsmanship coupled with high performance design
---

Kepasa Ukulele - Handmade ukuleles by Kevin Crossett in Vermont!
---

Black Bear Ukuleles - Handmade ukes, guitars, violins and more. www.blackbearukuleles.net
---

Dave Gill Ukuleles - Custom Ukuleles
---

Hive Ukuleles - These sublime instruments set a new standard for the next age of contemporary ukuleles.
---

Augustino LoPrinzi Guitars - A premiere builder of high quality guitars and ukuleles
---

Earnest Instruments - the new URL for Earnest!
---

Bean Sprout Banjo Ukulele Company - Handmade Banjo Ukulele, Ready for the 21st Century!
---

Road Toad Music - Ukulele & Bass Instruments by Owen Holt
---

Cole Clark - Ukuleles
---

Spanky Banjo Ukes - Banjo Ukulele Builders
---

Talsma Stringed Instruments - Builder from Michigan making fine handcrafted ukuleles and guitars
---

Akulele - The Akulele and Sweetheart Ukulele by Joseph Todaro
---

S.B. MacDonald Custom Instruments - Expert repair, vintage restoration of ukuleles and other stringed instruments, custom building. Huntington, NY
---

http://www.stuartlongridge.co.uk/ - Handcrafted ukuleles by Stuart Longridge, Exeter, EX5 5AZ, United Kingdom.
---

Kamoa Ukuleles - Hawaiian Ukuleles for all levels of experience.
---

Pickard Acoustics - Handbuilt guitars, mandolins, mandolas, citterns, bouzoukis, banjos and ukuleles.
---

Mya-Moe Ukuleles - Handmade Classic, Resonator, 6-string and Lap Steel Ukuleles
---

Lehua Ukulele - beautiful ukuleles
---

WaverlyStreet Ukuleles - Handmade ukuleles by Dave Gjessing
---

Bushman music works - ukulele and harmonicas maker
---

Moore Bettah Ukuleles - Custom crafted koa ukuleles by Big Island Hawaii luthier Chuck Moore
---

Lanikai Ukuleles - Ukuleles by Hohner
---

Davidson Ukulele Page - Builder of fine handmade ukuleles
---

Papa's Boxes - Cigar Box Ukulele Kits
---

GString Ukulele Co. - Ukuleles made in Hawaii
---

SpruceHouse Ukuleles - luthier's website
---

Palm Tree Ukuleles - fine handmade ukuleles built by John & Pam Ramsey at their music store in Colorado
---

Boat Paddle Ukuleles - Models, prices, design details and sound files of these innovative new ukuleles.
---

Michael J king Musical Instruments - UK based maker, Electric Ukulele, Koa soprano ukes, Stick dulcimers, many other alternative instruments
---

MP ukuleles - Handcrafted by Mike Pereira
---

Homewood Musical Instrument Co.:: Burns Instrument Repair - Custom made guitars, ukuleles and repair
---

CIGAR BOX UKELELES - handcrafted instruments with cigar box bodies
---

Island ukulele - Hawaiian made koa ukulele and guitars
---

Char Luthiery - Fine Guitars and Ukuleles
---

Paul Hathway Musical Instrument - Musical Instrument Maker
---

Glyph Custom Ukuleles - Ukes hand-built to your tastes in wood, scale length and trim
---

DaSilva Ukulele - Mike DaSilva Ukulele
---

russmorin.com - Custom Ukes
---

Andy Powers Musical Instrument Co. - builder of high quality ukuleles and guitars
---

Little River Ukuleles - Dave Sigman - Ukulele Builder
---

hana lima ia - ukulele making school
---

Beltona Resonator instruments - Catalogue of the products of the Beltona Company including three uke models
---

Kanile'a 'Ukulele - Handcrafted standard to custom instruments made in Hawaii
---

marcsilbermusic.com - hand-made guitars & ukes...also vintage instruments.
---

Mele Ukelele - A fabulous Local Maui (Kahului) Builder/Retailer of Ukeleles - Cheryl was great help and a mighty fine wahine
---

Pendennis Folk Instruments - Folk instruments, bouzoukis, mandolins, ukuleles
---

Ko'olau Ukulele Company - Manufacture and Repair of Ukuleles
---

RISA Musical Instruments - From the worlds smallest Ukulele to electric Ukes!
---

Tony Graziano Ukuleles - beautiful ukes built by skilled Luthier Tony Graziano
---

ukulele nylgut strings - ukulele and classical guitar nylgut strings
---

North Pacific Designs - Custom Ukuleles and surfboards
---

UKULELES BY KAWIKA, INC - Hand-crafted Ukuleles & Guitars
---

Bucks County Folk Music - fine handmade ukes, bodhrans, wooden flutes, and other neat stuff
---

Island ukulele - make uks
---

Po Mahina - Ukulele Builder - Island Syle - Dennis Lake
---

GKU Ukuleles - Hand Crafted Customs
---

mele ukulele - Maui made ukesonline store
---

Pohaku Ukulele - Concert, Tenor and Resonator Ukuleles
---

Free Cigar Box Uke Plans at the CBG Forum - Online forum for cigar box instrument enthusiasts. Contains historic 1931 plans for making a CIGAR BOX UKE. Free to download for members. Posts are available for anyone to read.
---
E-mail: info@fleamarketmusic.com


Home

Online Store

Events Calendar
Mailing List

Ukulele Links

Marketplace

Bulletin Board
Player Directory

Collector's Uke Yak

Ukulele Tuner


© 1997-2020 Flea Market Music. All rights reserved.
Web Design by Web Solutions, Inc.