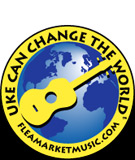 ---
Below is a list of links to other sites relating to Associations. These sites have been added by other ukulele players and enthusiasts. To add a link, click here.




E-mail: info@fleamarketmusic.com


Home

Online Store

Events Calendar
Mailing List

Ukulele Links

Marketplace

Bulletin Board
Player Directory

Collector's Uke Yak

Ukulele Tuner


© 1997-2023 Flea Market Music. All rights reserved.
Web Design by Web Solutions, Inc.