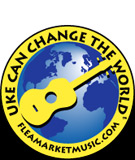 | | |
| --- | --- |
| | |
---
Uke Yak Fans,

Chuck "Frets" Fayne has been the resident expert for "Uke Yak" since 1998. Since that time he has answered almost 6,000 questions related to vintage ukuleles. Over many years, Chuck assembled his own world-class collection of vintage Hawaiian and Mainland ukes, including some amazing one-of-a-kind pieces. It was Chuck's collection that made up the majority of the ukes in my book, "The Ukulele-A Visual History." Although Chuck has retired from the Uke Yak, his extensive knowledge and unique sense of humor live on in this searchable archive. Enjoy! Search the Uke Yak.

Jumpin' Jim
2015

Flea Market Music Uke Yak (140 of 296)
(Chuck "Frets" Fayne has answered the following 5919 questions.)


---

Question asked by: Samantha Starr
Subject: PPIE Uke
Question: I am writing to you because my husband and I just watched Jim Beloff's DVD - The Joy of Uke. It was great! My husband, a Ukulele enthusiast, found it very informative. Those guys can really play! At the end of the DVD, where Jim Beloff describes his collection, he goes to some length to describe a Uke from the 1915 PPIE (Pan Pacific International Exposition) and shows it. As it turns out, we've got one of these. So, naturally, we're very excited. A nice little old lady from church knew my husband (the choir director there) liked Ukes and gave it and another unmarked antique Uke to us. Her father is pictured in an antique photograph with one of the Ukes – (the other, unmarked one – it actually has better sound,) and he did indeed buy them both new. The PPIE Uke is in really good shape – and is exactly the same as the one that Mr. Beloff has. Both labels – inside and out - are crystal clear and it is nice and shiny. The back does have a little crack in it – but it doesn't go all the way through the wood. So, we really would some idea of what value the Uke has – so that we may insure it. We're not selling it, but it's been just kicking around our piano without a case or anything. We thought maybe of making a custom shadowbox for it – but also don't know if that's a good way to store a piece such as this. I could send a picture of the other antique one - I've never seen one like it, so I have no idea even what it is. Opinions? Thanks!!!

Answer: Its a Kumalae and worth anwhere from 250-350 depending on the model...I'd have to see a pic to tell. Dont' put it in a shadow box. Play it. Same advise I always give when someone wants to display instead of play...I love buying at Church functions, The guy upstairs has no idea about price. It just gets into the right hands. Best of luck...Frets.....
- Sunday, February 20, 2005
---

Question asked by: Mark J. Hulme
Subject: Leonardo Nunes - Birkel
Question: Hi - I inherited a koa uke with the following paper label " "Ukelele O Hawaii made by Leonardo Nunes especially and exclusively for Geo. J. Birkel Co. 446-448 S. Broadway Los Angeles. Cal. Copyright 1917 by L. Nunes". No Headstock decal, flat top & carved back. I have given it a once over with Lemon Oil, but some of the aged schmutz wont come clea. Any idea of value or suggestions for restoration? Thanks.

Photos:



Answer: 350+ and dont do any more. Its only worth that if you leave it original If you try to get the dirt completely off, you might get into the finish...a no no...thanks for writing in...frets
- Sunday, February 20, 2005
---

Question asked by: Gabe
Subject: Martin Uke
Question: Chuck I wasn't sure if you received this or not. Still trying to figure out this computer thing. I was wondering if you had any info on this uke I received from my grandfather. I know it is any early Martin, but that is about it. I would like to have some work done on it, but not ruin the originality of it. Let me know your thoughts on it. Thanks.

Photos:



Answer: It is a style O martin uke. What kind of work and for what reason????....If it doesn't need anything don't do it. frets
- Sunday, February 20, 2005
---

Question asked by: sean
Subject: uke id help
Question: hi chuck, can you help me id this uke? i bought it from a man who said he bought it in 1954 and it was already old then. it has no label, appears to be koa wood, arched back soprano, 17 frets (12 to body)rope binding with black thin purfling inside it on the soundboard, rope rosette with black on either side and light wood or gold inner and outer ring 1/8th inch separate from rope rosette inside and one outside. the rope binding looks like ebony and lighter wood and there is a butt joint piece or either rosewood or ebony 1/4" at top and 1/8" at back. i was told that it was a hawaiian made instrument. if you have any clue, i would appreciate your thoughts. also, i can take more pictures if that would be helpful. mahalo & aloha sean

Photos:



Answer: Sean...Mainland made probably Regal..Made to look hawaiian but it is not. NIce uke...The headstock is typical Regal and Not Island. Best...frets
- Sunday, February 20, 2005
---

Question asked by: soybean
Subject: Tahitian
Question: Chuck, as you say, the Tahitian/ Maori "ukes" are really more of a percussion instrument. Is it possible they are not ukes at all but simply called ukes by the Tahitian tourist industry to dupe the uneducated traveller? Let's get a petition signed and start legal proceedings against these imposters! Something must be done! (tongue firmly planted in cheek.)

Answer: Great Idea...everyone needs a cause...Nice to hear from you Dan...keep them comin" frets
- Sunday, February 20, 2005
---

Question asked by: Stan
Subject: Antique Uke
Question: Hi Chuck, I bought this on ebay (buy it now $49.95 I think I had a great buy).there is no label but it is beautifully made and sounds incredible. it measures 20 1/2 inches and has a centre rope binding down the middle of the back which is rounded. I believe it is very early 20th century. Have you any idea of the maker and the value

Photos:



Answer: Great buy...No idea who made it...Looks like regal again. Hard to tell, many were made that look just like that. Sort of a Martin copy. Great score...start playing...frets.....
- Sunday, February 20, 2005
---

Question asked by: Andy
Subject: roy smeck concert uke
Question: Hi Chuck, Just wanted to know if $300 is a bit much to ask for a Roy Smeck concert uke. The uke in question looks exactly like the one pictured under the logo on the FleaMarket Music website (minus the extreme scratches). The local shop that is selling it typically prices it's stuff kind of high. Thanks

Answer: Its an ok price, not great. Good instrument and good player...best and thanks for writing in...frets
- Sunday, February 20, 2005
---

Question asked by: adam bastien
Subject: i just got my uke...
Question: I just got my own uke to play and i bought it for 30$ original price 60$... the first day i got it i tryed tightening the top string and it broke... i put a small guitar string on it and i was wondering if that were ok? i also wanted to know if i should slowly let the string stretch or just look for a better string?

Answer: Get a set of really good strings. It will make a great difference. bests to ya...frets
- Sunday, February 20, 2005
---

Question asked by: Jennifer Grimes
Subject: Gibson Uke 1?
Question: I was wondering if I might bother to ask you if you are familiar with something called a Gibson UKE 1? My grandmother gave me this ukelele in the original case (albeit it needs a little loving care down on the place where the strings hook in) and I'm just wondering what the story is? I wanted to put it in a shadow box (it was my great-grandmother's) and I'd like to have a notecard with some "story" to put in there. Thanks if you can help me!

Photos:



Answer: made in the l950's-60's late model Gibson style 1 uke...Pur a pic of your Grandmother in a Shadow Box and Hang the uke on the wall next to it. Play the uke...Don't put it in a box. It was meant to be played, its not a picture. Enjoy...frts
- Sunday, February 20, 2005
---

Question asked by: Tom
Subject: '50s Silvertone Bari Uke needs tuning peg
Question: Aloha Chuck, I've recently acquired a '50s Silvertone Baritone Uke, in near mint condition save one missing tuning peg. If possible, I'd like to get an original. Any suggestions? Mahalo, Tom

Photos:



Answer: Tom, please send this pic to Bernunzio Vintage instruments in Rochester NY..You will find email address on his web site. Just use his name and the website will come up. Tell him that chuck fayne told you to write. If anyone would have it ...he's the man. thanks for writing in and write back if you don't find one....frets...
- Wednesday, February 9, 2005
---

Question asked by: Richard
Subject: Oldie uke tunes
Question: Hi, As a newbie to the uke "scene" I'm really enjoying listening to and performing oldie songs. Could you suggest a web site that would be able to provide me with uke tab for great tunes from the 20's, 30's etc. I'm also trying to get an accurate tab for the classic, "Tonight you belong to be" (preferably the Steve Martin version as performed in the comedy, "The Jerk") Thanks for any help that you may be able to provide. Richard (Living in Beijing)

Answer: Richard, post this question and request on the bulletin board on this site. Use the menue at your left. Those people know it all and will help you with the problem. Also, look at the on-line store on this site to get started . We have all you need. Cd's, music books, ( all with notation) video's and a ton of great stuff. Thanks for writing in and I hope you find what you want. frets
- Wednesday, February 9, 2005
---

Question asked by: John Graham
Subject: banjo uke
Question: gooday chuck i have recently been given an old banjo uke...body about 15 cm in diameter.A cute little thing. i am wondering where i could get a new bridge and some strings. it had a couple of rusty steel strings on it.it has a good straght neck and is well worth 'doing up'. what are your thoughts on these instruments? Thanks for your time.....John

Answer: John, any decent music store should have a bridge that fits and then use gut ukulele strings. Metal strings are hard to play and hell on your fingers. Let us know what happens....chuck
- Wednesday, February 9, 2005
---

Question asked by: Bob
Subject: Tuners for Older Martin
Question: I recently purchased an older Martin 0. It came with 4 old wooden friction tuners and none of them match. Also, it looks like at one time in the life of the uke, someone pressed one tuner in so hard it cracked the head in half. This was repaired years ago (not sure how well). It looks like I will be replacing the tuners on this little lady, and I am a little worried about using the wooden tuners again and having the crack problem reappear. I am thinking I may do better putting on newer tuners. What is your opinion of this choice, what type of tuners would you suggest, and where would I begin my search for them? Is there a type of tuner I could use then replace with the old wooden ones if I ever sell her? Except for the fact that the uke was made in the 20's it is no way a true "collector". It has repaired cracks on the front and back, and shows a lot of wear. I just wanted a knock around Martin (love the sound), so I made the purchase. Thanks as always.

Answer: GO ONLINE AND TYPE IN MARTIN GUITARS....THEY STOCK A TUNER THAT WORKS WELL. WITH A CRACKED HEADFSTOCK AND ALL THE REPAIR WORK, DON'T WORRY ABOUT THE VALUE BEING REDUCED. IT ALREADY IS. THANKS FOR WRITING IN....CHUCK
- Tuesday, February 8, 2005
---

Question asked by: rowland
Subject: johnny marvin tenor
Question: chuck...i've got a nice old johnny marvin "tenor" uke (concert size). it's the only one i've ever had in my hands. protuding from the face of the neck block is the tip of a wooden dowel that seems to pin the tailpiece into the block. it looks as though it came from the factory like this and if not...is very well done by someone with miniscule hands! do you know if this pin is a stock feature of all johnny marvins or not? many thanks...rowland

Answer: Is the little tip on the inside. if so thats ok...if its on the outside that is a problem...let me know...frets....nice uke no matter....great wood...good sound...good bye....frets
- Tuesday, February 8, 2005
---

Question asked by: emelusky
Subject: Plastic UKE
Question: We found a red plastic uke in the closet . All it says is UKE-A-Tune. Origial box is in goog shape one tuner key (metal)is broken. Is this worth anything at all? Thanks

Answer: Stick it up on the marketplace on this site and you will soon learn. I have my doubts, but stranger things have happened.....let me know what happens...chuck
- Tuesday, February 8, 2005
---

Question asked by: Yuka
Subject: Martin sytle 1s
Question: Chuck,I went to check out the Martin style 1s that are listed on Peter's website at pohakuukulele.com. They sounded very good to me, especially the one with the side crack.Do you think these are fair prices? The cosmetic appearance is not great for either.Thanks for your help!

Answer: Yuka...cannot get onto the site as you have written it..Please check and get back to me...I am not familiar with Peter. Thanks frets
- Tuesday, February 8, 2005
---

Question asked by: Ted
Subject: Johnny Marvin Harmony
Question: Hi Chuck! I have been reading your earlier posts about Johnny Marvins and they seem to be favolable. I am lookng at this uke, but it doesn't seem to have the MOP inlays or the airplane bridge. Is it likely to be inferior to the more talked about iterations? Thanks!

Photos:



Answer: It is another variation of the Johnny marvin uke..It is not the airplane as you know..It is still a great player but it is not worth what the airplane bridge uke is worth. Its only difference is the appointments..other than that it is the same....best frets
- Tuesday, February 8, 2005
---

Question asked by: Tom Favilla
Subject: Origin of Baritone Uke
Question: Hi Chuck, I hope this note finds you and your family well. In answer to John's (Jan 29th inquiry)about the origin of Baritone ukuleles. At the request of my father Herk, my grandfather John Favilla produced a few Baritone ukuleles prior to 1950. By 1951 they were in the Favilla price list and are credited with being the originator and first commercially produced Baritone Ukulele's. My father Herk wrote the first published method book for the Baritone ukulele in 1949 (published in 1950 or 1951, can't find my copy at the moment). Martin did not add a baritone ukulele to their line until years later. Mike Longworth (God bless him) and I had a couple of great chats about this. Martin was a bit slow on the pick-up of the popularity of the Baritone uke spurred by Artur Godfrey about 1953-1955. Favilla supplied Godfrey for years before Tom Vinci (who started with Favilla), and vega. Tom

Answer: Thanks Tom...I knew you would read the posting as answer as you always do. Your one of the most faithful. Its always a pleasure to hear from you and I think its about time you wrote a book on the history of the Favilla company. It is a much needed book. You can tell that by the number of qustions I get. Best to you and yours...thanks for always being there...frets
- Tuesday, February 8, 2005
---

Question asked by: Tim
Subject: Biltmore Concert
Question: Aloha, I picked up this sweet concert Biltmore with a crazy pink nut and bridge insert. Its in perfect shape,sounds and plays beautifully. Can you help me out with some history. I can't find a thing. Thanks in advance,

Photos:



Answer: I think it might be wabash. I'm not sure, I am not sure that is the name of the company that made ukes with that bright saddle and nut. I know someone out there will refresh ....I just thought of it...It is made by the Williams company of Los Angeles in the l950's. That is most likely what you have...Its not a Wabash, they made the ukes that look like art deco cigar boxes. Hope this has helped. I had a couple of williams and they were not bad player,.....best and nice to hear from you....frets
- Tuesday, February 8, 2005
---

Question asked by: anton
Subject: leoneardo nunes pat.1916 ukelele
Question: HI, I CAME ACROSS A UKELELE PAT.1916 BARITONE BY LEONARDO NUNES, IN GOOD CONDITION I WAS WOUNDERING OF THE VALUE OF THIS INSTRUMENT AS AN INVESTMENT, THE DEALER IS ASKING $900 FOR IT . WHAT DO YOU THINK?

Answer: I think you need to send me a picture. Some Leonardo Nunes' would be a good investment and some would be highway robbery. Leonardo made many different styles of ukulele and each has a different value. 900 is alot of money to invest in a Nuunes ukulele unless it is the right uke. Send a pic or invest in Martha Stewart stock..Now there's an investment...best to ya...look forward to seeing the picture......
- Sunday, February 6, 2005
---
E-mail: info@fleamarketmusic.com


Home

Online Store

Events Calendar
Mailing List

Ukulele Links

Marketplace

Bulletin Board
Player Directory

Collector's Uke Yak

Ukulele Tuner


© 1997-2021 Flea Market Music. All rights reserved.
Web Design by Web Solutions, Inc.