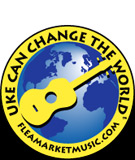 | | |
| --- | --- |
| | |
---
Uke Yak Fans,

Chuck "Frets" Fayne has been the resident expert for "Uke Yak" since 1998. Since that time he has answered almost 6,000 questions related to vintage ukuleles. Over many years, Chuck assembled his own world-class collection of vintage Hawaiian and Mainland ukes, including some amazing one-of-a-kind pieces. It was Chuck's collection that made up the majority of the ukes in my book, "The Ukulele-A Visual History." Although Chuck has retired from the Uke Yak, his extensive knowledge and unique sense of humor live on in this searchable archive. Enjoy! Search the Uke Yak.

Jumpin' Jim
2015

Flea Market Music Uke Yak (142 of 296)
(Chuck "Frets" Fayne has answered the following 5919 questions.)


---

Question asked by: Mark J. Hulme
Subject: Leonardo Nunes - Birkel
Question: Hi - I inherited a koa uke with the following paper label " "Ukelele O Hawaii made by Leonardo Nunes especially and exclusively for Geo. J. Birkel Co. 446-448 S. Broadway Los Angeles. Cal. Copyright 1917 by L. Nunes". No Headstock decal, flat top & carved back. I have given it a once over with Lemon Oil, but some of the aged schmutz wont come clea. Any idea of value or suggestions for restoration? Thanks.

Photos:



Answer: 350+ and dont do any more. Its only worth that if you leave it original If you try to get the dirt completely off, you might get into the finish...a no no...thanks for writing in...frets
- Sunday, February 20, 2005
---

Question asked by: Gabe
Subject: Martin Uke
Question: Chuck I wasn't sure if you received this or not. Still trying to figure out this computer thing. I was wondering if you had any info on this uke I received from my grandfather. I know it is any early Martin, but that is about it. I would like to have some work done on it, but not ruin the originality of it. Let me know your thoughts on it. Thanks.

Photos:



Answer: It is a style O martin uke. What kind of work and for what reason????....If it doesn't need anything don't do it. frets
- Sunday, February 20, 2005
---

Question asked by: sean
Subject: uke id help
Question: hi chuck, can you help me id this uke? i bought it from a man who said he bought it in 1954 and it was already old then. it has no label, appears to be koa wood, arched back soprano, 17 frets (12 to body)rope binding with black thin purfling inside it on the soundboard, rope rosette with black on either side and light wood or gold inner and outer ring 1/8th inch separate from rope rosette inside and one outside. the rope binding looks like ebony and lighter wood and there is a butt joint piece or either rosewood or ebony 1/4" at top and 1/8" at back. i was told that it was a hawaiian made instrument. if you have any clue, i would appreciate your thoughts. also, i can take more pictures if that would be helpful. mahalo & aloha sean

Photos:



Answer: Sean...Mainland made probably Regal..Made to look hawaiian but it is not. NIce uke...The headstock is typical Regal and Not Island. Best...frets
- Sunday, February 20, 2005
---

Question asked by: soybean
Subject: Tahitian
Question: Chuck, as you say, the Tahitian/ Maori "ukes" are really more of a percussion instrument. Is it possible they are not ukes at all but simply called ukes by the Tahitian tourist industry to dupe the uneducated traveller? Let's get a petition signed and start legal proceedings against these imposters! Something must be done! (tongue firmly planted in cheek.)

Answer: Great Idea...everyone needs a cause...Nice to hear from you Dan...keep them comin" frets
- Sunday, February 20, 2005
---

Question asked by: Stan
Subject: Antique Uke
Question: Hi Chuck, I bought this on ebay (buy it now $49.95 I think I had a great buy).there is no label but it is beautifully made and sounds incredible. it measures 20 1/2 inches and has a centre rope binding down the middle of the back which is rounded. I believe it is very early 20th century. Have you any idea of the maker and the value

Photos:



Answer: Great buy...No idea who made it...Looks like regal again. Hard to tell, many were made that look just like that. Sort of a Martin copy. Great score...start playing...frets.....
- Sunday, February 20, 2005
---

Question asked by: Andy
Subject: roy smeck concert uke
Question: Hi Chuck, Just wanted to know if $300 is a bit much to ask for a Roy Smeck concert uke. The uke in question looks exactly like the one pictured under the logo on the FleaMarket Music website (minus the extreme scratches). The local shop that is selling it typically prices it's stuff kind of high. Thanks

Answer: Its an ok price, not great. Good instrument and good player...best and thanks for writing in...frets
- Sunday, February 20, 2005
---

Question asked by: adam bastien
Subject: i just got my uke...
Question: I just got my own uke to play and i bought it for 30$ original price 60$... the first day i got it i tryed tightening the top string and it broke... i put a small guitar string on it and i was wondering if that were ok? i also wanted to know if i should slowly let the string stretch or just look for a better string?

Answer: Get a set of really good strings. It will make a great difference. bests to ya...frets
- Sunday, February 20, 2005
---

Question asked by: Jennifer Grimes
Subject: Gibson Uke 1?
Question: I was wondering if I might bother to ask you if you are familiar with something called a Gibson UKE 1? My grandmother gave me this ukelele in the original case (albeit it needs a little loving care down on the place where the strings hook in) and I'm just wondering what the story is? I wanted to put it in a shadow box (it was my great-grandmother's) and I'd like to have a notecard with some "story" to put in there. Thanks if you can help me!

Photos:



Answer: made in the l950's-60's late model Gibson style 1 uke...Pur a pic of your Grandmother in a Shadow Box and Hang the uke on the wall next to it. Play the uke...Don't put it in a box. It was meant to be played, its not a picture. Enjoy...frts
- Sunday, February 20, 2005
---

Question asked by: Tom B.
Subject: Unidentified Koa Uke
Question: Dear Frets: I purchased this uke from an antique dealer who was selling it as a wall- hanger. After replacing one missing tuner and stringing it up, I was delighted to hear one of the loudest soprano ukes I've ever played. Can you shed any light on who made it and/or whether it's a real Hawaiian instrument? There's no marking other than the Aloha shield at the top. Thanks!

Photos:



Answer: It is definitly a hawaiian uke and a nice one at that. It could be anybody. It is a fairly common uke. But a very nice one. nice score....frets
- Wednesday, February 2, 2005
---

Question asked by: John Gudmundson
Subject: Nunes Cloud Inlay
Question: Best of the Season to you Chuck. I have an old Manuel Nunes soprano with the cloud or moustache inlay. Other than the fact that this feature would indicate that the Ukulele is a relatively early model, is there any more details that you could share with us about the cloud feature. Thanks for Sharing! John G

Answer: Hey John...best to you too....That cloud arrangement came from the original portugese instruments. They can be seen on instruments dating back a couple hundred years. It sort of ended with ther use of the little doodad at the bottom of the early style three Martins. Its a nice thing. An early nunes with the cloud often guarantees that the uke was made by manuel himself..So many of the manuel nunes ukes were made by workers and not of the same quality...not even close. best of the new year....frets
- Tuesday, January 25, 2005
---

Question asked by: David H
Subject: Tuners
Question: I have a Kumalae Model 5 purchased AT the PPI in 1915, a 1960's Martin Baritone and a 1960's Kamaka Pineapple (plain, no paint). The tuners on the Kumalae or the wooden pegs and they work fine and I'm not going to change them but the screws in the other two are very sharp and scratch everything they come in contact with. Would I be spoiling the "antique" value to change to other tuners - the Schallers that Kamaka now uses for instance? Thanks a lot.

Photos:



Answer: Change the screws or have them filed down. Dont change the tuners because the screws scratch ....best...frets
- Tuesday, January 25, 2005
---

Question asked by: Rod Mann
Subject: Your Book
Question: Hello Chuck, Not knowing your e-mail address, I thought I'd contact you here. How do I get my number for your book? Pay for it? What does it cost? I have enjoyed, and appreciated Uke-Yak from the beginning. Thank you for all the fun and info. Rod

Answer: My book is about to go to print. Please email me and I will put you on the list. cfayne@swiftdsl.com.au.............Its taking longer than I thought as all books do. Working on too many things at the same time. Bad work ethic. Thanks for asking....look forward to hearing from you....frets If anyone else is interested in my uke book, please write and let me know. It going to be a lot of fun.....chuck
- Tuesday, January 25, 2005
---

Question asked by: Tom B.
Subject: Old Koa Uke
Question: Chuck, welcome back! We all were going through Uke-Yak withdrawal. Here's a picture of a koa uke with no identifying marks and no "Tabu" stamp. It has violin-style tuners (one of them is a replacement) and a very nicely arched back. This has to be one of the loudest ukes I've ever owned! Have you any idea who made it, or whether it's Hawaiian or mainland? Also, do all early Hawaiian ukes have the "Tabu" stamp? --- Thanks!

Photos:



Answer: definitly hawaiian....could be kumalae but not sure. all hawaiian early ukes did not have the tabu stamp..most didn't,....nice looking....frets
- Tuesday, January 25, 2005
---

Question asked by: Tommie Kelly
Subject: Wabash/Frisco
Question: DEAR Chuck, Gee! Thanks. I live in Rome, GA and as far as I know NOBODY else in Rome plays the ukulele, not that I do either. I guess I could run an ad in the classifieds. Should probably try Atlanta. The guy in Berkley who makes Friscos wasn't impressed by my Wabash and I sure can't justify $750 at my stage of uke learning. But somebody was trying to sell a collection of about 100 ukes on the bulletin board in 1999 and listed a Wabash for $475. Does that sound right if the condition is good? Much thanks for your responses.

Answer: Still too much....Great novelty uke but not worth 450.00 frets
- Sunday, January 23, 2005
---

Question asked by: Kathie Harris
Subject: Giannini Baritone
Question: I am trying to find some information about a Giannini Baritone Uke. The label says it was made in Brazil and distributed in USA by Merson Musical Products. I believe this one was purchased about 30 years ago. Any infowould be helpful. Thanks, Kathie Harris

Answer: Kathie..to my knowledge they are still in business. Their instruments pop up now and then. I find them to be very heavy and more the little guitar than the ukulele. If you go hunting on google, I think you will find out alot. Put this question to the gang on our bulletin-board(see menu at left) and you will get some Giannini owners to write..thanks for writing in...frets
- Sunday, January 23, 2005
---

Question asked by: robert
Subject: L. Nunes Uke
Question: Hi Chuck, What can you tell me about this L. Nunes ukulele? Style,date,ect.Thanks.

Photos:



Answer: Nice uke.....style 4 Leonardo Nunes son of Manuel nunes. Made in Los Angeles around 1930. If it has the trim around the back of the uke, it is very rare. Thanks for sharing this with us...frets
- Sunday, January 23, 2005
---

Question asked by: Yuka
Subject: Kumalae style E?
Question: Hi Chuck. Thank you for responding to my inquiry from last week. You wanted a better pictures of the heel cap, which I'll attempt to attach. This ukulele was at Marc Silber's, and he said it is a Kumalae. He said it should be more like $600. He has repaired the 2 cracks in the back and changed tuners. Do you agree that it's a Kumalae? I don't know how to attach multiple photos at the same time, so if you don't get all 4, please let me know. Thank you again for your help!

Answer: I didn't get the pics..try sending them to me at cfayne@swiftdsl.com.au./.....If Marc Silber said its a Kumalae then it is. He is very wise in the musical instrument world. When you see marc say hello from me. Ask to see the Frisco Uke that Marc and I have been making. Its quite an instrument...thanks for writing in...frets
- Sunday, January 23, 2005
---

Question asked by: Tommie Kelly
Subject: Wabash
Question: Actually, My friend, Gwendolyn Watson, studied with Pablo Cassals and I can't wait to show her this correspondence! And no, there are no legs or bows involved in my lessons. She taught at Stanford for a while so some of your readers may know her. But back to the Wabash, does it have a mellow sound? I want mellow. The Frisco LOOKS more mellow. Is it? Any chance of trading the Wabash for a Frisco. I sure wish I could hear both of them. What I'm learning on is a new tenor Lanikai which is quite nice and perfectly servicable, but it's sound is "sprightly". I know because Gwendolyn said so.

Answer: The wabash, as I remember it has a good sound. I doubt if you could trade it for a Wabash unless you met a Wabash fanatic who has a Frisco he doesn't want. Where are you located and I'll try to hook you up with a Frisco user. Best of luck...Frets
- Sunday, January 23, 2005
---

Question asked by: Rob Fallon
Subject: what kind? what value?
Question: Dear Chuck, I am looking into my grandmothers's ukulele and would like to determine its kind and worth. She apparently acquired it when she was a teenager in about 1916. I think it's a Martin Model 1 and is in very good condition. It's mahogony, has round dots on the fingerboard, with two dots above the sixth fret. The pegs are wooden. "C.F. Martin & CO. / Nazareth, PA" is on the back of the peg box and beneath the sound hole. No stickers or paper labels. The bridge is square, not angled. I can send a picture if necessary, or perhaps you could direct me to a store in the East Bay San Francisco Area? Berkeley? Many thanks, Rob

Answer: Rob...get to Marc Silber at Museum Music in Berkeley. He may be just listed Marc Silber Music...If you cannot find him, write me and I will send you info. He is a uke guru...He can tell you all you need to know. He is almost older than the Martin Company. Say hello to him for me, He is a dear friend of many years....frets
- Sunday, January 23, 2005
---

Question asked by: Herb Nicholas
Subject: Giannini Baritone
Question: We have aBaritone Giannini Uke in mint condition probably 30 to 40 years old. It has a gig bag and a pitch pipe that look like new. Can you suggest a price range for selling and how I might find a market?

Answer: Herb..put it on the Marketplace on this site. see menu at left......It should bring about 300 bucks if it is in great condition...thanks for asking...frets
- Sunday, January 23, 2005
---
E-mail: info@fleamarketmusic.com


Home

Online Store

Events Calendar
Mailing List

Ukulele Links

Marketplace

Bulletin Board
Player Directory

Collector's Uke Yak

Ukulele Tuner


© 1997-2021 Flea Market Music. All rights reserved.
Web Design by Web Solutions, Inc.