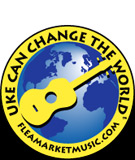 | | |
| --- | --- |
| | |
---
Uke Fans,

I'm particularly thrilled to have Chuck "Frets" Fayne as the resident expert for "Uke Yak." Over the years Chuck has assembled a world class collection of Hawaiian and Mainland ukes, including some wonderful one-of-a-kind pieces. It was Chuck's collection that made up the majority of the ukes in "The Ukulele-A Visual History." He's also promised to take full advantage of all the collectors he knows in the rare instance when somebody throws him a curve ball. PLEASE NOTE: If you want a response to your question please send a clear jpeg of the front and back of the entire ukulele. You may Search the Uke Yak, or Ask Chuck a Question now!

Yak away!

Jumpin' Jim

Flea Market Music Uke Yak (153 of 295)
(Chuck "Frets" Fayne has answered the following 5898 questions.)


---

Question asked by: Stan
Subject: Antique Uke
Question: Hi Chuck, I bought this on ebay (buy it now $49.95 I think I had a great buy).there is no label but it is beautifully made and sounds incredible. it measures 20 1/2 inches and has a centre rope binding down the middle of the back which is rounded. I believe it is very early 20th century. Have you any idea of the maker and the value

Photos:



Answer: Great buy...No idea who made it...Looks like regal again. Hard to tell, many were made that look just like that. Sort of a Martin copy. Great score...start playing...frets.....
- Sunday, February 20, 2005
---

Question asked by: Andy
Subject: roy smeck concert uke
Question: Hi Chuck, Just wanted to know if $300 is a bit much to ask for a Roy Smeck concert uke. The uke in question looks exactly like the one pictured under the logo on the FleaMarket Music website (minus the extreme scratches). The local shop that is selling it typically prices it's stuff kind of high. Thanks

Answer: Its an ok price, not great. Good instrument and good player...best and thanks for writing in...frets
- Sunday, February 20, 2005
---

Question asked by: adam bastien
Subject: i just got my uke...
Question: I just got my own uke to play and i bought it for 30$ original price 60$... the first day i got it i tryed tightening the top string and it broke... i put a small guitar string on it and i was wondering if that were ok? i also wanted to know if i should slowly let the string stretch or just look for a better string?

Answer: Get a set of really good strings. It will make a great difference. bests to ya...frets
- Sunday, February 20, 2005
---

Question asked by: Jennifer Grimes
Subject: Gibson Uke 1?
Question: I was wondering if I might bother to ask you if you are familiar with something called a Gibson UKE 1? My grandmother gave me this ukelele in the original case (albeit it needs a little loving care down on the place where the strings hook in) and I'm just wondering what the story is? I wanted to put it in a shadow box (it was my great-grandmother's) and I'd like to have a notecard with some "story" to put in there. Thanks if you can help me!

Photos:



Answer: made in the l950's-60's late model Gibson style 1 uke...Pur a pic of your Grandmother in a Shadow Box and Hang the uke on the wall next to it. Play the uke...Don't put it in a box. It was meant to be played, its not a picture. Enjoy...frts
- Sunday, February 20, 2005
---

Question asked by: Douglas Gaither
Subject: Colored Strings for TV Pal
Question: Hey Chuck, Last fall you recommended I hook up with Duane Heilman for a repair to my 1920s Echo Uke. He did a great job! Thanks for the recommendation.... I purchased a TV Pal Uke on eBay just because I wanted one. It came with colored strings that I think may have been original. The uke sounds a little thin, would new strings perk this puppy up or is it just destined to be thin? And what about the colored strings? I'm not really concerned about the collectability of it. I just wanted a plastic uke. Oh and one last thing, the top is deformed right in front of the bridge due to continual strain. Can I just heat it up and kinda bend it back out?

Answer: Glad duane could help..don't strain..you could pop a blood vessle in your eye. put on new strings and see how you like it..you can always put old ones back on. hope i helped....frets
- Wednesday, December 22, 2004
---

Question asked by: E Mayo
Subject: Uilani Ukuleles
Question: Have you heard of the Uilani brand Uke?I am led to believe that these are custom-made. Do they have a good reputation. Thanks,

Answer: As far as I know thay have a perfect reputation. I have never heard of them. Somebody out there in uke land will write in and let us know. thanks for writing in...frets
- Wednesday, July 28, 2004
---

Question asked by: Andy
Subject: Roy Smeck Concert Uke
Question: This is the third time I've sent this question - hope it works this time. I found a Roy Smeck concert UKe in very good condition, in fact it looks just like the one pictured on this website just below the FleaMarket Music logo although it doesn't have the scratches on it. The seller is asking $300, is this too much for this uke? Thanks

Answer: This is the second time I have answered it. We had alot of trouble with the site. Lost alot of info. Perhaps ours is out there. It is a good price....grab it...frets
- Wednesday, July 28, 2004
---

Question asked by: Gabe
Subject: Old Martin Uk
Question: Aloha Chuck. I have recently been given a early Martin ukulele and would like to see what it is, and how to care for it. I am not a current player, but would like to get it into good working condition. It was my grandfathers and from the small amount of research I have done, made in the early 1900's. Any help would be appreciated. Also, what to do about the crack repair. Thanks.

Photos:



Answer: I'd need a pic of the front of the whole uke to tell you what it is. However, the crack wouldn't bother me as long as it is sturdy. If not, its an easy repair. Good luck and let me see a pic of the front. frets
- Wednesday, July 28, 2004
---

Question asked by: Jenny
Subject: kamaka keiki pineapple uke
Question: Chuck, I just bought a kamaka keiki pineapple uke. It needs a little work, but sounds great. I am wondering what kind of string to buy. I'm not sure if the standard soprano strings will work. It also needs new tuning pegs. The current ones are very loose and will not hold the string in tune. Can you help a novice like myself? Thanks, Jenny

Answer: You can buy Kamaka strings at most good music stores. If not, you can order them from Kamaka...They have a website. A good music store can fix you up with pegs or tuners as well, or Kamaka can send you a replacement set. thanks for writing in. good uke...have fun....frets
- Wednesday, July 28, 2004
---

Question asked by: Ray Lew
Subject: 1st real uke
Question: Chuck, I am looking for my first real ukulele. I am considering a new Kamaka concert or an old Martin soprano. What would you suggest. How does one get a decent Martin without a lot of down side. Thanks

Answer: I would steal it...thats the least you will get it for. However the down side is the time in the pokey. If you are considering a new kamaka concert, you shouldn't be far away from a decent martin. If it is your first uke, I might opt for the new concert kamaka...perhaps a little easier to learn on....let us know what happens...keep tuned into the marketplace on this site....all sorts of stuff pop up...let them know your wants..you will get answers...frets
- Wednesday, July 28, 2004
---

Question asked by: RCHawaii
Subject: Identify Royal Aloha Uke?
Question: Chuck=I can't seem to find any information on this uke-Could you help my friend with a little history and value? Thanks..His story is below..(Resubmitted due to Website loss) http://www.ri- aeromodelers.com/Spads/ROYAL.JPG http://www.ri- aeromodelers.com/Spads/head.JPG When I was a young boy my Grandfather would visit twice a year from California with his Miniature Schnauzer "Troubles" He was a thin Portuguese man with an eternal bronze tan who never seemed to age. He always wore a bleach white tank top T shirt and a pair of Dickie's for working in the yard and garden, which we did a lot of. Anyway, He spent many of the summers with us and left me with many fond memories to cherish. The memory I cherish most of those carefree days was at dusk when the work was done and the summer air started to cool he would come out of the house with his Aloha Royal Ukulele. He would stand with one foot propped on a rock or chair and begin to play. Man could he play that thing. And from the moment he strummed the first string till the end of each tune his little dog troubles would stand up on his hind legs and dance around in circles. Man those were some happy times. Unfortunately like all good things.... When I was 14 my granddad passed away. My Dad went out to California to settle affairs and he brought me back Three things. His Tackle box, A large Bowie Knife, and His Aloha Royal Tenor Ukulele. Long story Short. I tried to learn to play from a book when I was a sixteen but I never got the hang of it. So I have carried his Uke with me for the Last 23 years Sometimes on display sometimes in a box in the basement. Six years ago I came across the box it was in and took it out and its been sitting on my roll top desk since. Well I had given up on thinking I could learn to play it. I never had any music lessons and since I most people I knew learned young I figured it was too late. That is until SPADFEST. When I heard Dean play His it made me miss the music of that little Uke. The when I found out that Collin had only started playing guitar six months prior, Wow, Then to find out that ThudD was still learning, maybe it was time to give it another try. Well, I have sense come home and have been trying to learn it the best I can. I still am poor but improving and having a blast at the same time. So where did my Uke go you may ask. Well when I picked it up after SF04 I noticed it had Crack running straight down the back and A couple in the front. I thought it was from old age and not too much could be done about it, Until I read the post here on Luthiers and got to thinking. So after asking around I found a highly recommended one here in RI. I brought it up to his Workshops on the third floor of an ancient textile mill. There was a few customers and a few hangers around. Within a minute of poking around looking at all the sights I heard him say to a customer, You'll have to excuse me Ive got to see that fine tenor uke over there. Well he came over and I handed it to him. He gave it a strum, shook head and proceeded to tune it proper. As soon as that was done he proceed to bring forth such music from that little Uke. Instantly I was 13 again standing in awe with my jaw agape and a tear in my eye. He stopped playing far too soon. I wanted to beg him to keep going but I didn't think he would understand. I don't know if saw the tear or noticed my look. But I explained to him that I hadn't heard it played so wonderfully in 25 years. So I showed him the cracks and he explained to me how I have been killing it over the years by not having it in a humid enough environment. he explained how the moisture was leaving the wood causing it to shrink and crack. If I had only known He then showed me a guitar which had similar damage but worse and how well it came out after being repaired. So before he can repair it It needs to be in a high humidity environment in hopes of having it swell back and fill some of the gaps. So there she sits, trying to recoup from my negligence, destrung in the back hall which doubles as the maintenance area for my 265 Gal Aquarium. I do not know the exact humidity levels back there but any steel that sits there over a month is covered in rust. I check her daily and to my amazement she is swelling back and filling in nicely. In another couple of weeks I should be able to bring her back to be repaired and restrung but until then I am sitting here with the I ain't got no Uke to play the Blues _________________ Un Manke Eaoka Aina Ika Pono

Answer: I have a question for you. What is your question? great story...had me on the floor. frets
- Wednesday, July 28, 2004
---

Question asked by: scott
Subject: types of ukes
Question: how many types of ukes are there? i would like to learn ukulele (sp?) what kind would you recommend to a beginner? scott

Answer: 4 types....soprano, concert, tenor and baritone. that is from the smallest to the largest. There are thousands of different names.....I would recommend the fluke, which is sold on this site. It has nothing to do with the fact that it is on this site..It is a fabulous uke. You might want to have a look at its cousin the flea. I recommend both highly. Thanks for writing and keep in touch...frets
- Tuesday, July 27, 2004
---

Question asked by: Sandor
Subject: re-submit with diff. pic (having problems submitting ?'s)
Question: Hi Chuck, Being married to a beautiful hula girl from the Big Island, I finally bought an ukulele to learn to play. Because we always have musicians over (& I don't play anything), I figured I'd buy something that if I am never able to learn to play it, we can at least keep at home for impromptu sing a longs with musical friends (we already have a guitar and some percussion). So, considering budget (we are both grad students) and internet research, I came upon what looks like a kamaka on e-bay. After bidding, I realized one of the ?s asked of the seller was if there were any markings of the kamaka logo by the tuners since the label was missing, and there isn't any. I ended up winning the auction (tonight) at $255. According to the seller, it was bought in Michigan from an estate sale and it supposedly came with some kamaka literature and was supposed to have been purchased in Hawai`i in the 1960's. There are not supposed to be any cracks or damage except for scratches in the front. Since the cheapest all koa uke I found online was around $200, I went for it. What do you think? kamaka or not a kamaka? What should I do about the scratches in the front? Send it to kamaka for repairs or authentication? What do you think? the auction link is: http://cgi.ebay.com/ws/eBayISAPI.d ll?ViewItem&item=3737393152 MAHALO!

Photos:



Answer: I would say it is a Kamaka and If you live in the islands, I would take it to Kamaka for repair. Its a nice one and a good price. Nice score....frets
- Tuesday, July 27, 2004
---

Question asked by: FRETS FAYNE
Subject: LOST QUESTIONS
Question: IF YOU WROTE UKE YAK DURING THE TIME BETWEEN JUNE 6TH AND JULY 15TH, PLEASE WRITE AGAIN. WE HERE AT FLEAMARKETMUSIC LOST ABOUT 5 WEEKS OF MATERIAL. THIS ALSO APPLIES TO MARKETPLACE, AND BULLETIN BOARD. I WILL CATCH UP AS FAST AS I CAN. AGAIN, THANKS TO ALL OF YOU WHO SUPPORT THE SITE...AND LET US BE THE FIRST TO WISH YOU A HAPPY NEW YEAR. KEEP IN TOUCH....FRETS

Answer: PLEASE WRITE SOON..... FRETS
- Tuesday, July 20, 2004
---

Question asked by: steve wagner
Subject: martin 3k 4 string ukalele
Question: i rece4ntly inherited this uke, and it is in perfect, perfect, 100% pristine condition. i have an offer of $3000 for it. what is your openion? thanks, steve

Answer: Steve, it depends on the year of the 3k. There are more variations of that model than any other. Please send a picture to this site or to my home email..cfayne@swiftdsl.com.au.....will be glad to help....don't take the money yet...It might be worth more.....frets
- Tuesday, July 20, 2004
---

Question asked by: Eric N
Subject: Unidentified Uke
Question: Chuck, Dunno if you got my initial inquiry... Jim told me about the web site problem, and suggested I resubmit, so forgive me if you already received this. My wonderful wife purchased an old uke for me for our anniversary. Following is part of the ebay description: This Ukelele is built with the finest, highly flamed solid Koa wood and that it dates near the turn of the century. The following detailed description will describe every piece clearly to allow you to make your own conclusions. This Ukelele measures 20-7/8" overall length, 9" body length, 4-7/8" across upper bout, 6" across lower bout. The body thickness is 2-1/4" at the butt end and gradually tapers to 1-7/8" toward the neck joint. The sound hole measures 1- 11/16" across the opening. The body waist is 3-1/2" across. The fretboard is 8-3/8" long, 1-1/4" wide at the nut and 1-7/8" at the body end and is 1/8" thick. The playing scale is 13" from nut to bridge saddle. The body is solid flamed Koa wood with a glossy finish that has slight craze checking from age. The top and back are each one piece of highly flamed solid Koa. The sides have outstanding flamed Koa and are two pieces, joined at the neck joint (hidden) and butt end which is joined with a strip of dark rosewood. The full body rope binding is very intricate craftsmanship, made from tiny pieces (5/32" by 5/32" by 1/32" each) of rosewood or ebony (dark) and maple (light). Each piece is miter (angle) cut on both ends and placed, alternating the different colored hardwoods, with a very thin strip of maple behind the pattern. The rope binding is solid with NO missing pieces! There are also hardwood inlays around the sound hole, first a thin ring of maple, then another miter cut rope pattern with alternating rosewood or ebony and maple pieces (1/16" by 1/8" each) bordered by inner and outer rings of rosewood or ebony. Then an outer ring of thin maple. The bridge is solid Koa with carved saddle. Inside the body, there is the presence of "gray mud" which was verified to be correct as this mixture was used during the construction of Ukelele's during the early 1900's. The interior of the body has solid Koa wood neck and tail blocks. There is NO dowel showing in the neck block. The interior of the back has one tapered cross brace of solid Koa wood. The interior of the top has two cross braces of solid Koa. The top and back have Koa hand slotted bracing around the inner edges. All bracing is solid. I have inspected the interior with a light and mirror and found no Luthier markings of any kind. The neck and head stock are solid Koa, with the face of the head stock having a additional thin laminated piece of Koa veneer. The neck is very flat and true. The fret board is another amazing feature, made from rosewood, with a full length chevron pattern inlay, alternating rosewood or ebony with tiny grain cuts of what appears to be maple, but may be bone or ivory. Very detailed craftsmanship! The frets are brass, the twelfth fret meets the body with another five frets overlaping onto the body. There are three sets of pearl dot fret inlays, one at the fifth, seventh and tenth frets. The neck is flat but the fret board has a very slight upward bow and a few rough edges. The nut appears to be Koa and maybe a replacement. The tuning pegs are of the highest quality, stainless steel "Grover Patent" stamped barrels, shafts with ebony buttons and stainless tension screws. All tuners and buttons are excellent condition. Everything about the preceding description is true, and it sounds wonderful. In addition, it came with the original case (see pic), which, other than a break in one of the straps, is also in very good shape. Any ideas as to origin, age, etc? Thanks so much. Really enjoy Uke Yak a lot!

Photos:



Answer: ERic...going to be a short answer to a long question. You have a beautiful mainland made koa wood ukulele. Probably made by the regal company. It is nicer than any I have seen of that ilk. It was made in the 30's and as I said, it is beautiful. thanks for sharing...frets
- Tuesday, July 20, 2004
---

Question asked by: Rob Stagno
Subject: Value of Martin 5K w/
Question: Hi Chuck, I just picked up a Martin Uke on e-Bay. It looks great - the back has some minor cracks which were repaired and touched up. The back looks different than the front/side finish. The seller tells me he back was sanded. Does this devalue the instrument? Thanks. Here's the listing: http://cgi.ebay.com/ws/eBayISAPI.d ll? ViewItem&item=3724595943&sspagenam e=STRK%3AMEWN%3AIT&rd=1

Photos:



Answer: Yes it does devalue it.....The diehard collector wants it original. However, if this is an instrument for playing or keeping and not an investment piece, I would forget it and get down to playing. Nice back....send as pic of the front..love to see it... great instrument...frets
- Sunday, June 06, 2004
---

Question asked by: Douglas Gaither
Subject: Echo Uke Repair
Question: Dear Chuck, I wrote you last fall about an Echo Uke that needed repair. I was having difficulty finding a luthier to repair it. You suggested Duane Heilman with high recommendations. I received it back a few weeks ago. Duane did a fabulous job for a resonable price. He strung it up with Aquila soprano strings and he was surprised at how loud and mellow it was. Thanks for the advice! Oh, and I also ran across a few pictures of his Black Bear Ukulele's and they were beautiful. I would certainly like to have one of them babies!

Answer: thanks for the update....duane makes great stuff....love his work..frets
- Sunday, June 06, 2004
---

Question asked by: BRUCE REID
Subject: KUMALAE UKE
Question: Hi Chuck, Being a keen musician, I have taken a great interest in a ukulele I was given by a relative. It was manufactured by Jonah Kumalae and has a motive on the head stating, Kumalae Gold Award, P.P.I E. 1915. It is perfect condition but is missing a peg. I was interested in its value even though I intend keeping it. Also, any thoughts on getting a suitable peg.

Answer: depending on the model, a few hundred....send me a pic of the peg and I will send you a matching one..I have hundreds.....fets
- Sunday, June 06, 2004
---

Question asked by: Sue Melton
Subject: uke
Question: My Aunt passed away at the age of 91 in August. She had a uke (she has had this since I was a small child. I don't know if I should sell this uke to a collector, garage sale etc. Can you tell me what to do thanks sue

Answer: A pic would help alot. Also, sorry to hear about your aunt..no need to send as pic of her...frets
- Sunday, June 06, 2004
---
E-mail: info@fleamarketmusic.com


Home

Online Store &nbsp

&nbsp Events Calendar&nbsp

&nbspFlashbacks
Mailing List &nbsp

&nbspUkulele Links &nbsp

&nbsp Marketplace &nbsp

&nbsp Bulletin Board
Player Directory &nbsp

&nbspFAQ File &nbsp

Collector's Uke Yak

Ukulele Tuner


© 1997-2014 Flea Market Music. All rights reserved.
Web Design by Web Solutions, Inc.