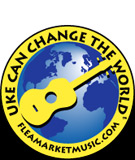 | | |
| --- | --- |
| | |
---
Uke Fans,

I'm particularly thrilled to have Chuck "Frets" Fayne as the resident expert for "Uke Yak." Over the years Chuck has assembled a world class collection of Hawaiian and Mainland ukes, including some wonderful one-of-a-kind pieces. It was Chuck's collection that made up the majority of the ukes in "The Ukulele-A Visual History." He's also promised to take full advantage of all the collectors he knows in the rare instance when somebody throws him a curve ball. PLEASE NOTE: If you want a response to your question please send a clear jpeg of the front and back of the entire ukulele. You may Search the Uke Yak, or Ask Chuck a Question now!

Yak away!

Jumpin' Jim

Flea Market Music Uke Yak (153 of 296)
(Chuck "Frets" Fayne has answered the following 5910 questions.)


---

Question asked by: Gabe
Subject: Martin Uke
Question: Chuck I wasn't sure if you received this or not. Still trying to figure out this computer thing. I was wondering if you had any info on this uke I received from my grandfather. I know it is any early Martin, but that is about it. I would like to have some work done on it, but not ruin the originality of it. Let me know your thoughts on it. Thanks.

Photos:



Answer: It is a style O martin uke. What kind of work and for what reason????....If it doesn't need anything don't do it. frets
- Sunday, February 20, 2005
---

Question asked by: sean
Subject: uke id help
Question: hi chuck, can you help me id this uke? i bought it from a man who said he bought it in 1954 and it was already old then. it has no label, appears to be koa wood, arched back soprano, 17 frets (12 to body)rope binding with black thin purfling inside it on the soundboard, rope rosette with black on either side and light wood or gold inner and outer ring 1/8th inch separate from rope rosette inside and one outside. the rope binding looks like ebony and lighter wood and there is a butt joint piece or either rosewood or ebony 1/4" at top and 1/8" at back. i was told that it was a hawaiian made instrument. if you have any clue, i would appreciate your thoughts. also, i can take more pictures if that would be helpful. mahalo & aloha sean

Photos:



Answer: Sean...Mainland made probably Regal..Made to look hawaiian but it is not. NIce uke...The headstock is typical Regal and Not Island. Best...frets
- Sunday, February 20, 2005
---

Question asked by: soybean
Subject: Tahitian
Question: Chuck, as you say, the Tahitian/ Maori "ukes" are really more of a percussion instrument. Is it possible they are not ukes at all but simply called ukes by the Tahitian tourist industry to dupe the uneducated traveller? Let's get a petition signed and start legal proceedings against these imposters! Something must be done! (tongue firmly planted in cheek.)

Answer: Great Idea...everyone needs a cause...Nice to hear from you Dan...keep them comin" frets
- Sunday, February 20, 2005
---

Question asked by: Stan
Subject: Antique Uke
Question: Hi Chuck, I bought this on ebay (buy it now $49.95 I think I had a great buy).there is no label but it is beautifully made and sounds incredible. it measures 20 1/2 inches and has a centre rope binding down the middle of the back which is rounded. I believe it is very early 20th century. Have you any idea of the maker and the value

Photos:



Answer: Great buy...No idea who made it...Looks like regal again. Hard to tell, many were made that look just like that. Sort of a Martin copy. Great score...start playing...frets.....
- Sunday, February 20, 2005
---

Question asked by: Andy
Subject: roy smeck concert uke
Question: Hi Chuck, Just wanted to know if $300 is a bit much to ask for a Roy Smeck concert uke. The uke in question looks exactly like the one pictured under the logo on the FleaMarket Music website (minus the extreme scratches). The local shop that is selling it typically prices it's stuff kind of high. Thanks

Answer: Its an ok price, not great. Good instrument and good player...best and thanks for writing in...frets
- Sunday, February 20, 2005
---

Question asked by: adam bastien
Subject: i just got my uke...
Question: I just got my own uke to play and i bought it for 30$ original price 60$... the first day i got it i tryed tightening the top string and it broke... i put a small guitar string on it and i was wondering if that were ok? i also wanted to know if i should slowly let the string stretch or just look for a better string?

Answer: Get a set of really good strings. It will make a great difference. bests to ya...frets
- Sunday, February 20, 2005
---

Question asked by: Jennifer Grimes
Subject: Gibson Uke 1?
Question: I was wondering if I might bother to ask you if you are familiar with something called a Gibson UKE 1? My grandmother gave me this ukelele in the original case (albeit it needs a little loving care down on the place where the strings hook in) and I'm just wondering what the story is? I wanted to put it in a shadow box (it was my great-grandmother's) and I'd like to have a notecard with some "story" to put in there. Thanks if you can help me!

Photos:



Answer: made in the l950's-60's late model Gibson style 1 uke...Pur a pic of your Grandmother in a Shadow Box and Hang the uke on the wall next to it. Play the uke...Don't put it in a box. It was meant to be played, its not a picture. Enjoy...frts
- Sunday, February 20, 2005
---

Question asked by: Douglas Gaither
Subject: Colored Strings for TV Pal
Question: Hey Chuck, Last fall you recommended I hook up with Duane Heilman for a repair to my 1920s Echo Uke. He did a great job! Thanks for the recommendation.... I purchased a TV Pal Uke on eBay just because I wanted one. It came with colored strings that I think may have been original. The uke sounds a little thin, would new strings perk this puppy up or is it just destined to be thin? And what about the colored strings? I'm not really concerned about the collectability of it. I just wanted a plastic uke. Oh and one last thing, the top is deformed right in front of the bridge due to continual strain. Can I just heat it up and kinda bend it back out?

Answer: Glad duane could help..don't strain..you could pop a blood vessle in your eye. put on new strings and see how you like it..you can always put old ones back on. hope i helped....frets
- Wednesday, December 22, 2004
---

Question asked by: Traci Deyoung
Subject: s.s. stewart ukulele
Question: Chuck, I went to an estate sale today an purchased this S.S. Stewart Ukulele and case. I know nothing about it, and am wanting to resell it probablly on ebay. Is it in to rough of shape to sell? What do you think, and what can you tell me about it. Thank you for your time. I am interested to see what I found here. Sincerly, Traci

Photos:



Answer: traci...It is in very rough shape. It is an s s stewart soprano made in the 30-40's. I can't tell alot about it from the pic,. if it has cracks to go along with the finish, I wouldn't be looking to make alot of money..They are far down on the collectable list in good condition. Sorry, I wish I had better news....frets
- Sunday, August 01, 2004
---

Question asked by: dd
Subject: the moari uke..
Question: don't understand the 'moari uke' question. does it have 8 or 12 strings ? check the photo. thanks.

Answer: 12 I think, however its use and effect are the same as the 8 string. I have seen them in all kinds of configurations. thanks for pointing that out...frets
- Friday, July 30, 2004
---

Question asked by: Tiki King
Subject: Uilani
Question: I have seen several very nice examples of Uilani Ukes. They are well made and built to order in Hawaii, but I do not have any contact info. However, there are also some Chines made cheepies being distributed by the company "Pignose" (famous for little guitar amps) that carry the "Uilani" brand name. Doubt they are related, though.

Answer: Thanks your highness...always nice to hear from you. I can't find them either and nice to know about the pignose ukes...will be on the lookout. let me know if you find anything...frets
- Friday, July 30, 2004
---

Question asked by: Mozo
Subject: Moari /Tahitian Uke ?
Question: G'Day Chuck...What do U make of this Tahitian/Moari (?) 8 string little #?. Have heard party performer, just once, played high. (key & me!) & it sounded great ! It seems rather different & interesting. . Made in Melbourne. it can be bought on Ebay for about Aus$250, would U recommend purchase?. Do U have any experience ?...Stay Well, Wise One...U R needed...Mozo... P S Hope U R wearing your long johns in wintry Mt.Idy

Photos:



Answer: Where the ukulele is a melody and harmonic instrument, the tahitian uke is primarily a rhythm instrument played in tune. I love the sound of them, especially with metal strings...good luck my friend..stay well..frets
- Thursday, July 29, 2004
---

Question asked by: Jeff Adcock
Subject: harmony pic #2
Question: Here's the second pic, showing headstock and a portion of the side wood. I forgot to mention that after a little set up work and switching to some new strings, this baby plays and sounds really great! Thanks again, and best wishes - Jeff

Photos:



Answer: 30's...all mahogany..I prefer them to the paintd ones where they could uke really crap wood and paint it any way they want to...wish I could help more, but it is as very common uke but they can sound great,.,.,frets
- Thursday, July 29, 2004
---

Question asked by: Gary Goldstein
Subject: CF Martin 5K
Question: Chuck, Have you come across a cream puff CF Martin 5K for sale recently? What should one expect to pay?

Answer: no 5k's recently....I wouldn't expect to pay after all I have done for the world of ukuleles. A free one would only dent the surface of what I believe I am owed. What a load of crap...looked good in print. I would expect a cream-puff of as 5k would go in excess of 10-12 thou.....They are still the most sought after of the modern ukes. goodluck...hope you find one...frets
- Thursday, July 29, 2004
---

Question asked by: Sandor
Subject: re-submits
Question: Hi, I submitted a ? a couple of times and recieved delivery failiures. I understand you are having problems withe th site so thought I'd let you know. thanks for all the great info. and keep up the good work!

Answer: look in collectrs uke yak...the answer is there now...thanks...frets
- Thursday, July 29, 2004
---

Question asked by: scott
Subject: question of a uke on ebay
Question: i found a uke on ebay and, i was wondering. what type is this (soprano, concer ect.) i don't know if kay is world renoud or anything. i'm just looking for a cheap uke to learn to play on.

Photos:



Answer: Its probably a soprano. I've never seen a kay that wasn't...Its a fine uke to learn on. No problem...thanks for writing in...frets
- Wednesday, July 28, 2004
---

Question asked by: Charlie
Subject: uke ID
Question: Hello, I sent this question in a little over a week ago, but I'm assuming it was lost somwhere down the line. Oh well, no big deal. Anyways, my grandmother just gave me a ukulele that had been given to her by a friend while visiting the Hawaiian islands in 1948 (she doesn't know how old it was to begin with). It is a little rough, and I cannot find any labels, inscriptions, or other kind of identification. Based on the pictures I've attached, I was curious if you could tell me anything about it. There is the possibility of it being no more than a cheap tourist trap uke, but I thought I'd let you take a look to see if it is anything more than that. Any information would be appreciated. Also, if you need any more pictures at different angles please let me know. Thank you, Charlie

Photos:



Answer: Its more than just a cheap tourist uke. It looks fairly well made. I have no idea who made it, however, for some reason it doesn't look island made. But remember, its the sound that counts.....frets
- Wednesday, July 28, 2004
---

Question asked by: E Mayo
Subject: Uilani Ukuleles
Question: Have you heard of the Uilani brand Uke?I am led to believe that these are custom-made. Do they have a good reputation. Thanks,

Answer: As far as I know thay have a perfect reputation. I have never heard of them. Somebody out there in uke land will write in and let us know. thanks for writing in...frets
- Wednesday, July 28, 2004
---

Question asked by: Andy
Subject: Roy Smeck Concert Uke
Question: This is the third time I've sent this question - hope it works this time. I found a Roy Smeck concert UKe in very good condition, in fact it looks just like the one pictured on this website just below the FleaMarket Music logo although it doesn't have the scratches on it. The seller is asking $300, is this too much for this uke? Thanks

Answer: This is the second time I have answered it. We had alot of trouble with the site. Lost alot of info. Perhaps ours is out there. It is a good price....grab it...frets
- Wednesday, July 28, 2004
---

Question asked by: Gabe
Subject: Old Martin Uk
Question: Aloha Chuck. I have recently been given a early Martin ukulele and would like to see what it is, and how to care for it. I am not a current player, but would like to get it into good working condition. It was my grandfathers and from the small amount of research I have done, made in the early 1900's. Any help would be appreciated. Also, what to do about the crack repair. Thanks.

Photos:



Answer: I'd need a pic of the front of the whole uke to tell you what it is. However, the crack wouldn't bother me as long as it is sturdy. If not, its an easy repair. Good luck and let me see a pic of the front. frets
- Wednesday, July 28, 2004
---
E-mail: info@fleamarketmusic.com


Home

Online Store &nbsp

&nbsp Events Calendar&nbsp

&nbspFlashbacks
Mailing List &nbsp

&nbspUkulele Links &nbsp

&nbsp Marketplace &nbsp

&nbsp Bulletin Board
Player Directory &nbsp

&nbspFAQ File &nbsp

Collector's Uke Yak

Ukulele Tuner


© 1997-2014 Flea Market Music. All rights reserved.
Web Design by Web Solutions, Inc.