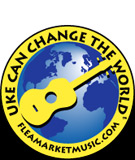 | | |
| --- | --- |
| | |
---
Uke Yak Fans,

Chuck "Frets" Fayne has been the resident expert for "Uke Yak" since 1998. Since that time he has answered almost 6,000 questions related to vintage ukuleles. Over many years, Chuck assembled his own world-class collection of vintage Hawaiian and Mainland ukes, including some amazing one-of-a-kind pieces. It was Chuck's collection that made up the majority of the ukes in my book, "The Ukulele-A Visual History." Although Chuck has retired from the Uke Yak, his extensive knowledge and unique sense of humor live on in this searchable archive. Enjoy! Search the Uke Yak.

Jumpin' Jim
2015

Flea Market Music Uke Yak (173 of 296)
(Chuck "Frets" Fayne has answered the following 5919 questions.)


---

Question asked by: Brian
Subject: Kamaka Ukes
Question: Hi Chuck, I notice that on some Kamakas the frets were cut into the neck w/o a separate fret board. When were they made? Were they made the same time as the ones with "raised fret board? Thank you, Brian

Answer: Brian...I have two almost identical Kamaka sopranos sitting each with different fret arrangements. Both made around the same time. I think there was an overlap and I don't know when. Kamaka has made so many different varieties of instruments, it has always been difficult to date them. Even the Kamaka factory is unsure of certain dates. I used to think the color of the label had something to do with the date, however time has proved me wrong. John King, if you are out there, perhaps you could shed some additional light on the subject. Thanks in advance...fretgs
- Monday, January 12, 2004
---

Question asked by: Mitch
Subject: Martin 2K
Question: I found this ukulele in the garage and I believe it's a 2K. It has CF Martin & Co., Nazareth PA engraved on back of pegboard and inside and white banding and white pegs. It has a few blemishes and I know this is tough but what could it be worth (restored & unrestored)

Photos:



Answer: If it doesn't have serious damage...cracks, seam separations etc...dont do any restoration. It looks beautiful as is. It could be worth upwards of 1000.00. They are a very beautiful instrument and a fine player. I'm not sure of your definition of restoration...If you mean refinish, don't do it. If it has minor damage that can be handled without much mucking about..do it. Serious collectors would rather have it in its original condition. You can lessen the value by restoring it. If you plan to keep it forever then by all means do what makes you happy. I would....Good to have you aboard....stick around and enjoy our ramblings..frets
- Monday, January 12, 2004
---

Question asked by: Tom B.
Subject: Old Kamaka Pineapple, Part 2
Question: Hello again, Chuck. Thanks for your reply regarding my old Pineapple Uke. Here is a photo of it, showing front, back, partial label and the crack. I would greatly appreciate any advice you can give me on getting this fixed and replacing the pegs. I'm in the San Francisco area. Also, can you tell me anything else about this uke, such as age? It says "patented 1928" inside, but I wasn't sure if that was actually the date of manufacture. Thanks again, Chuck!

Photos:



Answer: Kamaka pineapple as you know. Label says l928 but could have been made later..up to about 35. I would have a professional repair the crack..The uke is worth it,..One of the most sought after ukes around. Great sound..The wood seems a little dry, perhaps a little gentle rubbing will bring back the color. If you need additional info, don't hesitate to write. It is not a bad crack and should go back together fairly easily and be almost invisible in the hands of as good luthier. let us know how it comes out...we care...frets
- Monday, January 12, 2004
---

Question asked by: Will
Subject: Maxwell
Question: Hi Chuck, I've googled the Internet and am unable to find what I think is a baritone uke. It has a small, oval Maxwell label on the headstock. It's old, has a rosewood back (that deep-red, wide grain), spruce top (the patina gives it away), bone or Bakelite tuning pegs, and mother-of-pearl inlay around the soundhole. It's not the highest craftsmanship, but it's also not south-of-the-border workmanship. Gut strings, and from nut to saddle it's just shy of 20 inches. Is a baritone ukulele? And why can't I find other Maxwell models?

Answer: I think you can't find other maxwell models, because soon after they made this uke, they went into the coffee business. I wish I knew the answer to this one. A soprano is 20 inches long and most tenors are envious. I have seen the maxwell label but don't remember on what. One of the masses will write in with the info. Just wait...Thanks for writing in...always a pleasure,..,.frets
- Monday, January 12, 2004
---

Question asked by: john downs
Subject: need to make a choice
Question: Dear Chuck, I play the uke, and would like to get a used banjo uke for a different sound but don't know much about them. I've come across a couple of different types and was hoping you could shed some light on the subject. The ukes on the left are all similar, could they all be made by just a couple of different companies? They differ in style, some have the f type sound hole others have simply a hole in the middle of the resonator. Also, the resonator seems to be attached differently in some; some are attached by what looks like nails others not. The ukes numbered one and 2 are very similar, made with the f type sound holes and nailed in resonator, and an inlayed wood stripe down the middle of the neck and around the body, these have no manufacturer markings and I've seen many others very similar to these with out the inlayed wood stripe or with some kind of herring bone trim. The "la pacific" uke is similar with a different resonator hole. Then the beauty in the middle seems to not have any nails/serews attaching the resonator to the body. What is the difference between these ukes on the left? Any one "better" than the others? And now for those on the right, they all look more like banjos, and some have no resonator. Is a lack of resonator normal, or is the piece missing? will a larger resinator make a better sound? And the Dixie uke, Seems to me the sound would be too tinny, do they? hard to tell what any thing sounds like when your shopping on line. and between these two styles the the construction of the drum is the major differentiating factor, is one better than the other? And lastly, of these banjo ukes pictured, which one would you recommend for some one who plays daily and likes to take 'em camping so both sound and durability is somewhat of a factor. Also, is there a standard for differentiating a tenor, concert, and soprano ukes? Length of neck/body, # of frets? Thanks!!!!

Answer: Longest question of the year. I have no idea which is the best. I am not a fan of banjo ukes and it depends on the sound. Not the make. I don't know what your budget is, however I would be looking for a Gibson or a Ludwig if you are going to do serious playing. The pic of the ukes you sent me are all pretty much plain jane banjo ukes. They need to be strung with gut strings not banjo metal strings. The dixie is a no no. Unless your attacked by muggers. The difference between models of ukuleles...soprano about 20 inches..concert about 24 inches, tenor about 27 inches..These all vary with the maker but are pretty much in the ball park..thanks for asking and I hope you find the sound you are listening for. frets
- Monday, January 12, 2004
---

Question asked by: Pamela Reed
Subject: very old uke
Question: Royal Hawaiian all koa inside sticker 1927 soprano one crack near sound hole. Great sound - full and bright for its small size! Liquidating uncles estate want to offer for sale but have no idea what to ask? money to be placed in scholarship fund & used for San Francisco high school seniors to attend local college automotive college.

Answer: Ask 350 if it is in good shape and good luck..If you list on the marketplace on this site, you will find people who are looking for only one thing...... Ukuleles. Good place to start. let us know how it works...frets
- Saturday, January 10, 2004
---

Question asked by: Blair
Subject: 8 or 4 string
Question: Which one of these electric is better? A 8 string or a 4 string?

Answer: A question only you can answer. Play them both and decide what you like. I don't play electric ukulele so my opinion wouldn't help you at all. Does a brand name come to mind. That might change my suggestion. Thanks for writing in..frets
- Saturday, January 10, 2004
---

Question asked by: Pat Willey
Subject: enos koaloha
Question: I have a koa wood soprano uke by enos koaloha, 552 Hotel Street, Honolulu. I cannot find any reference to him anywhere. Can you tell me anything about this maker. The instrument sounds really nice, but is rather plain.

Answer: Pat...I am posting this in the hopes John king reads it and answeres it for me. I am not familiar with this specific marking. The name Koaloha has been used by many different makers. JOhn?????? frets
- Friday, December 26, 2003
---

Question asked by: Hudson Bedell
Subject: Baritone Uke
Question: Hey Chuck. Sorry it took so long to get back to you. Here is the unidentified Uke my dad brought back from Vietnam. Any clue?

Photos:



Answer: Not a clue. Its hard from the picture. It is not a hawaiian uke, it is probably not a mainland uke. It looks Eurpoean or Japanese. Wish I could help more...perhaps one of the readers will recognize the maker. frets
- Friday, December 26, 2003
---

Question asked by: Yoyo
Subject: Kumalae ukes
Question: What is the level of quality and playability of early ukes such as Kumalaes and other early models? Are they solidly made and do they still maintain a good sound? What modern ukes are they comparable to?

Answer: Yoyo...how are the ups and downs of life...could't resist. Kumalae's are fine instruments. Its very hard to compare things like musical instruments. They are all individual. They are not comparable to any modern uke, they are not a modern uke. They compare to the ukes of their era...You won't go wrong...get the Kumalae Hope I've help..I confused myself...frets
- Monday, November 3, 2003
---

Question asked by: Dave Means
Subject: Slingerland Ukes
Question: Chuck, regarding Dave's quest for info about Slingerland ukes... I recently helped James "Fleastomper" Key restore an old Maybell wooden soprano uke. Despite having the same logo on the headstock as the Slingerland Maybell banjo ukes, I don't think this wooden Maybell was built by Slingerland. It was missing its interior paper label, but it sure looked like a Regal to me. Same headstock shape and 4-color binding as some of the fancier mahogany Regals of the period. -- Dave, Glyph Custom Ukuleles

Answer: Thanks Dave...for those of you who are not familiar with Dave and his glyphuke...take the time to go to his website or write him directly for more information on his uke. I am waiting for the one he is building for me. I told you I would pass on the names of any new makers that have the right idea. I have it on good authority this man knows what he is doing. I will give a complete report when I have the uke in my hands. However, until then, I have to go on the reports of friends who's opinions I trust. I hear great things about the glyph uke. If you out in uke land have more info, please send it in. Were always looking for new quality product and from what I hear, this is it.....More to come...frets
- Monday, November 3, 2003
---

Question asked by: Ricky
Subject: Lymana Ukulele
Question: Hi Chuck, Here's some info on a new website for Lymana Ukulele. www.lymanaukulele.com

Photos:



Answer: Ricky...thanks....beautiful uke...keep writing in...frets
- Wednesday, October 29, 2003
---

Question asked by: John Arreola
Subject: Venezuelan Cuatro
Question: This is not a question, but a follow up on an inquiry about using a baritone uke for a Venezuelan cuatro. See photo of a concert style Venezuelan cuatro. The size is between a concert and a tenor uke, and is tuned B-F#-D- A. A baritone uke would not give the authentic sound of a cuatro! It is strung in what is called "re-entrant" tuning. That is, instead of the strings being tuned across the neck from high to low, one of the strings jump up in pitch while its neighbors drop progressively. You may find some chord books at latin music stores, or at the Internet.

Photos:



Answer: Thanks John..all info needed....frets
- Wednesday, October 29, 2003
---

Question asked by: Kathy
Subject: Martin Tiple
Question: I would like to sell a Martin tiple but not sure of an appropriate price to ask. It has T- 15, C.E. Martin & Co., Nazareth, PA inside. Good condition, some surface scratches. I have received a variety of estimates of value. Thanks for any help.

Answer: kathy....depending on condition..a good price would be 650=750....good luck....frets
- Wednesday, October 29, 2003
---

Question asked by: Kenneth G. Bailey
Subject: John King
Question: There was an entry on BB about a truly talented guy, John King. I felt compelled to share with your readers a pic of a few Hawaiian made Ukuleles from the closet. I'd have been totally clueless about these Ukes without the knowledge I gained from reading his published work. From left to right, Nuuanu Music Co. (with Tabu stamp), George P. Mossman (Belltone label), Paradise Ukulele & Guitar Works (circa 1918), Aloha Ukulele Manufacturing Co.(with Akai and Tabu stamp).

Photos:



Answer: Thanks Ken and your right...John King is a very talented man. Couldn't work without his knowledge. Thanks for the pics as usual...keep up the good work...frets
- Wednesday, October 29, 2003
---

Question asked by: Will Corkhill
Subject: How do Kumalae's stack up
Question: I'm a fairly new to ukes and am looking to purchase my first quality uke. I was wondering how Kumalae ukes compare to say Kamaka and Martin? I was also wondering how newer Kamaka pineapple ukes (60's to now) compare to older Kamakas (50's and before)? Pineapple and standard shape. Also if pineapple ukes are supposed to be much louder and warmer than the standard guitar shape, than why is the guitar shape still the standard? I've found your sight very informative and am asking these questions mainly because I'm going to have to by a uke on blind faith in the company name. There's no stores anywhere near me that I know of where I can try quality ukes out side by side. Thanks for any guidance. Great Sight.

Answer: Very little compares to Kamaka and then Martin. Kumalae is a fine instrument but not in the same league. The pineapple Kamaka of l928 is the best sounding of them all. There are many pineapples being made today. Older Kamakas are usually better sounding because they have had time to break in and expand the sound. Where do you live , perhaps I can recommend a luthier in your area. thanks for writing in and let us know what you decide..thanks...frets
- Wednesday, October 29, 2003
---

Question asked by: Linda
Subject: Family heirloom needs repair
Question: I have an old melon shaped uke. The label inside says Marca Aquila Favilla Bros. New York, NY U.S.A. During our move it cracked in a seam in the back. How can I find someone to repair this? or Can I? I means a lot to me since it is an old family heirloom. Linda

Answer: Linda..where do you live..I can suggest someone to take it to. Don't try to fix it yourself..thanks for writing in...frets
- Wednesday, October 29, 2003
---

Question asked by: sleepe
Subject: uke sizes
Question: Hi Chuck, I am a novice but have two ukes (Oscar Schmidt) bought at a local music store. The sales person didn't have a lot of information so I'm a little confused as to what size ukes I have. Can you fill me in on what size each uke (soprano, concert, etc.) is? Thanks, Sleepe

Answer: They need a new sales person to start with. Get Jim Beloff's book.."the Ukulele a visual history...it is available at the on-line-store on this site. a soprano is about 21 inches long overall, 23 approx concert, 25 approx tenor and 30 approx baritone....Take this to the salesperson and also have them order some material from this site. Sounds like they either need it or need to change businesses.....frets
- Wednesday, October 29, 2003
---

Question asked by: john downs
Subject: how to tune a ukelin
Question: a statement really, http://www.usd.edu/smm/uke4.html just because

Answer: Destined to be a best seller " How to tune a Ukelin...It comes with a small booklett.."now that you have tuned your ukelin, how to bandage your hands....complete with ear plugs....thanks...I am going to order one...frets
- Wednesday, October 29, 2003
---

Question asked by: Eric
Subject: Ukelin Info.
Question: Here's a source for all the information you'd want on the Ukelin- and more. http://www.geocities.com/Vienna/St rasse/5565/

Answer: Ukelin source......Thanks....frets
- Wednesday, October 29, 2003
---
E-mail: info@fleamarketmusic.com


Home

Online Store

Events Calendar
Mailing List

Ukulele Links

Marketplace

Bulletin Board
Player Directory

Collector's Uke Yak

Ukulele Tuner


© 1997-2018 Flea Market Music. All rights reserved.
Web Design by Web Solutions, Inc.